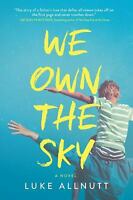 We Own The Sky (Used Book) - Luke Allnutt
"We looked down at the cliff jutting into the sea, a rubber boat full of kids going under the arch, and then you started running and jumping through the grass, dodging the rabbit holes, shouting at the top of your voice, so I started chasing you, trying to catch you, and we were laughing so hard as we ran and ran, kicking up rainbow showers in the leaves."

Rob Coates feels like he's won the lottery of life. There is Anna, his incredible wife, their London town house and, most precious of all, Jack, their son, who makes every day an extraordinary adventure. But when a devastating illness befalls his family, Rob's world begins to unravel. Suddenly finding himself alone, Rob seeks solace in photographing the skyscrapers and clifftops he and his son Jack used to visit. And just when it seems that all hope is lost, Rob embarks on the most unforgettable of journeys to find his way back to life, and forgiveness.

We Own the Sky is a tender, heartrending, but ultimately life-affirming novel that will resonate deeply with anyone who has suffered loss or experienced great love. With stunning eloquence and acumen, Luke Allnutt has penned a soaring debut and a true testament to the power of love, showing how even the most thoroughly broken heart can learn to beat again.

Paperback
0426ML
---