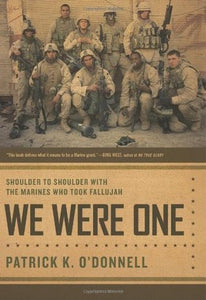 We Were One (Used Hardcover) - Patrick K. O'Donnell
The platoon included four pairs of best friends. Each of the four would lose a best friend forever.Five months after being deployed to Iraq, Lima Company's 1st Platoon found itself in Fallujah, embroiled in some of the most intense house-to-house, hand-to-hand combat since World War II. Civilians were used as human shields or as bait to lure soldiers into buildings rigged with explosives; suicide bombers approached from every corner hoping to die and take Americans with them; radical insurgents, high on adrenaline, fought to the death. The Marines of the 1st Platoon (part of 3rd Battalion, 1st Marine Regiment) were among the first to fight in Fallujah, and they bore the brunt of this epic battle. When it was over, the platoon had suffered thirty-five casualties, including four dead.This is their story.Award-winning author and historian Patrick O'Donnell stood shoulder-to-shoulder with this modern band of brothers as they marched and fought through the streets of Fallujah, and he stayed with them as the casualties mounted. O'Donnell captures not only the sights, sounds, and smells of the gritty street combat, but also the human drama of young men in a close-knit platoon fighting for their lives-and the lives of their buddies. We Were One chronicles the 1st Platoon's story, from its formation at Camp Pendleton in California to its near destruction in the smoldering ruins of Fallujah.We Were One is an unforgettable portrait of the new "Greatest Generation."With 16 pages of extraordinary photographs from the front lines of the Battle for Fallujah.
Condition: Used book in Very Good condition.
---