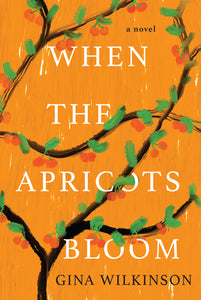 When The Apricots Bloom (Used Paperback) - Gina Wilkinson
Inspired by her own experiences in Iraq during Saddam Hussein's rule, Gina Wilkinson's evocative, suspenseful debut is told through the eyes of three very different women confronting the limits of friendship and forgiveness, and the strength of a mother's love.

At night, in Huda's fragrant garden, a breeze sweeps in from the desert encircling Baghdad, rustling the leaves of her apricot trees and carrying warning of visitors at her gate. Huda, a secretary at the Australian embassy, lives in fear of the mukhabarat—the secret police who watch and listen for any scrap of information that can be used against America and its allies. They have ordered her to befriend Ally Wilson, the deputy ambassador's wife. Huda has no wish to be an informant, but fears for her teenaged son, who may be forced to join a deadly militia. Nor does she know that Ally has dangerous secrets of her own.

Huda's former friend, Rania, enjoyed a privileged upbringing as the daughter of a sheikh. Now her family's wealth is gone, and Rania too is battling to keep her child safe and a roof over their heads. As the women's lives intersect, their hidden pasts spill into the present. Facing possible betrayal at every turn, all three must trust in a fragile, newfound loyalty, even as they discover how much they are willing to sacrifice to protect their families.
0711ML
---