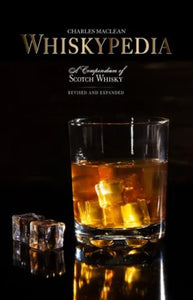 Whiskypedia: A Compendium of Scotch Whisky (Used Hardcover) - Charles MacLean
Have you ever wondered why Scotch whisky tastes the way it does? Have you ever questioned the history of whisky and how its flavor notes have changed over the years? If so, then this book is for you! The flavor of Scotch whisky is influenced by a combination of history, craft, science, and tradition. Whether it is single malt Scotch whisky, dalmore whisky, or peat whisky, you will learn something about it in this book. 
This book on scotch is also a compendium of curiosities! Learn about bottles of scotch, including orbit bottle labels, whiskey green labels, and more. Whiskypedia also outlines information about individual distilleries. Each one provides their whiskies with unique characteristics. They are grounded in the craft and custom of the distillery and its district, but the real key influences on the flavor are how the spirit is matured, the distilling equipment itself, and how the distilling equipment is operated. This guide explores all of those influences and more. 
Whiskypedia is the first comprehensive source of the flavor and character of every malt whisky in Scotland. Written by Charles MacLean, "a world authority on malt whisky" ( Daily Telegraph ), shares his wisdom throughout this book. The history of Scotch whisky and information on Scotch distilling are also included. John MacPherson's stunning photos compliment the text well. This is an ideal book about Scotch for any whisky fan. 
Skyhorse Publishing, along with our Good Books and Arcade imprints, is proud to publish a broad range of cookbooks, including books on juicing, grilling, baking, frying, home brewing and winemaking, slow cookers, and cast iron cooking. We've been successful with books on gluten-free cooking, vegetarian and vegan cooking, paleo, raw foods, and more. Our list includes French cooking, Swedish cooking, Austrian and German cooking, Cajun cooking, as well as books on jerky, canning and preserving, peanut butter, meatballs, oil and vinegar, bone broth, and more. While not every title we publish becomes a  New York Times  bestseller or a national bestseller, we are committed to books on subjects that are sometimes overlooked and to authors whose work might not otherwise find a home.
---