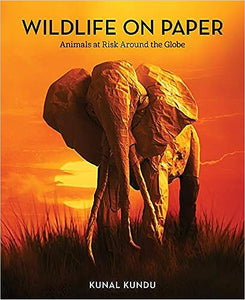 Wildlife on Paper: Animals at Risk Around the Globe (Used Hardcover) - Kunal Kundu
Introducing the magnificent crumpled paper art by debut author Kunal Kundu, Wildlife on Paper brings to life animal species at risk from all around the world while teaching kids how cool and unique each animal is.
From the Peary caribou in Northwest Canada to the Galapagos Penguin in Ecuador, the Royal Bengal Tiger in India to the Hawksbill Sea Turtle in Australia, this book celebrates the rich diversity of wildlife on almost every continent. Each of the sixteen exquisitely handcrafted paper sculptures come with interesting trivia and facts about where the animal lives and how it survives in its habitat and interacts with nature. Also included is a map of where each creature lives on the globe, plus a list of helpful resources and the author's favorite nature conservation organizations.
Sure to be a favorite for kids and adults alike, Wildlife on Paper opens the world wide as you marvel at the gorgeous crumpled paper art journey through the ocean, forest, desert, and more to learn about the diversity of animals and their incredible characteristics.
0817MWL
---