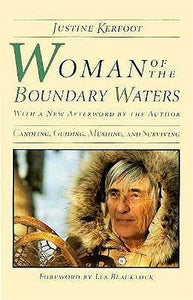 Woman Of The Boundary Waters: Canoeing, Guiding, Mushing, and Surviving (Used Paperback) - Justine Kerfoot
The Boundary Waters region of Minnesota and Ontario is a vast wilderness of quiet beauty, visited and loved by many, but home to only a rugged few. In 1928, Justine Kerfoot arrived, a Northwestern University graduate headed for medical school until her family lost both their Illinois homes in the stock market crash. Thrust into year-round life at her mother's fledgling summer resort, Justine was confronted with learning survival in the frigid north woods, a challenge she met with extraordinary verve and recounts with great candor and humor in this remarkable book.
Kerfoot has paddled all the lakes and streams in this border country, and she knows them well. Her lyrical descriptions of wildlife and seasonal environments express the deep reverence for nature that has become her way of life. In a new afterword, she reflects on the impact of restricted wilderness status on the region - called the Boundary Waters Canoe Area Wilderness since 1978 - and on her own convictions about people living in the wild.
---