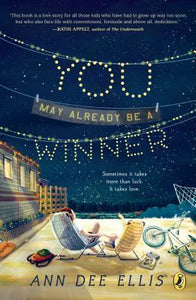 You May Already Be a Winner (Used Paperback) - Ann Dee Ellis
For fans of Ali Benjamin's The Thing About Jellyfish and Katherine Applegate's Crenshaw comes the humorous and heart aching story of one girl's struggle to keep hope alive for her and her younger sister in Sunny Pines Trailer Park.

Twelve-year-old Olivia Hales has a foolproof plan for winning a million dollars so that she and her little sister, Berkeley, can leave behind Sunny Pines Trailer Park.

But first she has to:
·  Fix the swamp cooler and make dinner and put Berkeley to bed because her mom is too busy to do all that
·  Write another letter to her dad even though he hasn't written back yet
·  Teach Berk the important stuff, like how to make chalk drawings, because they can't afford day care and Olivia has to stay home from school to watch her
·  Petition her oddball neighbors for a circus spectacular, because there needs to be something to look forward to at dumb-bum Sunny Pines
·  Become a super-secret spy to impress her new friend Bart
·  Enter a minimum of fourteen sweepstakes a day. Who knows? She may already be a winner!

Olivia has thought of everything . . . except herself. Who will take care of her when she needs it? Luckily, somewhere deep down between her small intestine and stomach is a tiny voice reminding her that sometimes people can surprise you—and sometimes your family is right next door.
0823DO
---