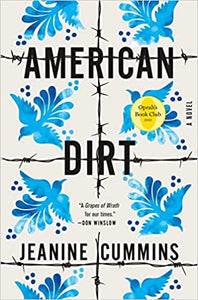 American Dirt (Used Hardcover)- Jeanine Cummins
Lydia Quixano Pérez runs a bookstore in Acapulco, Mexico, where she lives with her husband, Sebastián, who is a journalist, and their son, Luca. When a man starts visiting her store, buying books and striking up a friendship, she has no idea initially that he will be responsible for turning her life upside down. But Lydia and Luca will have to flee Acapulco, setting them on a journey they will share with countless other Central and South Americans-turned migrants.
From the colossal opening chapter to the epilogue, American Dirt is a novel of crisp writing, urgent pacing, and remarkable empathy.
1017ML

---