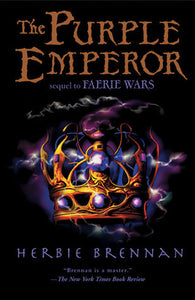 The Purple Emperor (Used Hardcover) - Herbie Brennan
When Henry Atherton returned to his own life in the suburbs of London, he thought all was well in the Faerie Ream. His new friend Pyrgus, the crown prince of Faerie, was about to be coronated as Purple Emperor. But then Princess Holly Blue arrived on Earth, seeking Henry's help once more.
A plot to assassinate Pyrgus is afoot, but that's not the worst of their problems. Pyrgus's father, the murdered Purple Emperor, has been raised from the dead by means of foul necromantic sorcery. Now Lord Hairstreak and the sinister Faeries of the Night have seized control of the Realm . . . and driven Pyrgus and his allies into hiding.
Henry has no choice to return to the world of Faerie to aid his friends. But that proves easier said than done when the mystical portal linking their realms goes awry. Now Henry will have to scramble just to stay alive in a fantastic world that's constantly full of surprises . . . and danger.
The Faerie Wars Chronicles #2
1026DS
---