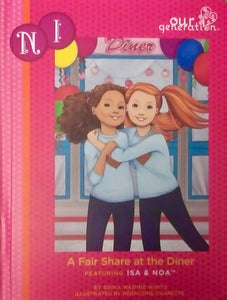 A Fair Share at the Diner (Used Hardcover) - Erika Nadine White
Isa and Noa have been best friends all their lives. They do everything together, from hanging out at the local diner to volunteering at the food bank. Everyone is in for a whole lot of fun when they decide to combine the two and throw an amazing fundraising party!

They're in for a few surprises when some unexpected guests turn up st the celebration. Like a mysterious man in a fancy car who places a very tall order. And a hungry little kitten with nowhere to call home! What started out as a party turns into a puzzle.

Isa and Noa are all about sharing, whether it's good food or good times. But how can you share a kitten? It's a cat-astrophic argument that just may break up the friendship ever! Something's cooking at the diner, with a secret ingredient that might make a big a big difference for everyone. What could it be?
0615DS
---