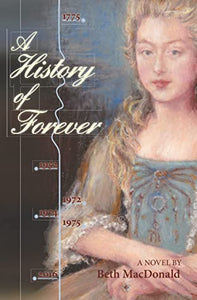 A History of Forever (Used Paperback) - Beth MacDonald
On the first pages of A History of Forever, gallery owner and historian Sarah Bolling disappears leaving only a letter and memoir as explanations to her whereabouts. In her manuscript she tells of a clandestine relationship with her history professor and makes other personal confessions that she has locked away for over forty years. Most startling is Sarah's recollection of a three month journey during the winter of 1974-1975, which if revealed during her long career as a respected historian could have derailed her professional life, or, had she been believed, created an upheaval in the world of physics and reality as we know it.
A History of Forever is a book to read on different levels. At its most basic, it is a romance—a classic story of love and fantasy. For those interested in history, the novel is also a thought provoking read on what it means to study the past and how historians are the keepers of what gets told and how it gets told. Lastly, A History of Forever is a look into the multiple meanings of the word forever and the methods we employ to make sure that our loved ones are not forgotten by us or by others. 
0815ML
---