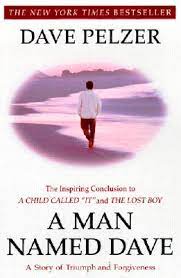 A Man Named Dave (Used Paperback) - Dave Pelzer
A Man Named Dave is the conclusion to a trio of autobiographical books by Dave Pelzer, who to millions of readers of A Child Called "It" and The Lost Boy has become an inspirational figure. A Child Called "It" is the gripping and harrowing account of Pelzer's abuse at the hands of his mother, beginning when he was four years old and continuing until teachers and neighbors were finally able to intervene and he was placed in foster care at age 12. The Lost Boy picks up where A Child Called "It" leaves off and details Pelzer's experiences in foster care and his difficulty navigating the "normal" world with the dark shadows of his abuse and of his mother's actual presence in his life looming over him.


In this installment, Pelzer narrates his life from his enlistment in the Air Force at age 18 to the present day. While all three books show the consequences of profound cruelty with a frank immediacy and gut-wrenching, carefully chosen detail, they are -- as the subtitle of this final installment of the trilogy suggests -- ardently inspirational works. Pelzer's thematic focus is forgiveness and the ability of the human spirit to triumph over adversity. Pelzer demonstrates that it is possible to channel feelings and experiences of trauma into positive energy.


Pelzer includes just enough flashback and summary material that the reader new to his work has a complete grasp of the scope of his mother's abuse and his experiences in foster care. And those fans who have read his previous work will find A Man Named Dave to be an essential, capping complement to A Child Called "It" and The Lost Boy.


A Man Named Dave describes Pelzer's more recent experiences and affords readers access to a more mature, gradually ripening adult perspective during Pelzer's agonizing struggle to confront the demons of his past and conquer them. To read all three works in sequence is, therefore, to experience a voyage from darkness with only a glimmer of hope to full illumination.
---