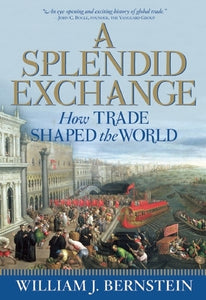 A Splendid Exchange: How Trade Shaped the World (Used Hardcover) - William J. Bernstein
Adam Smith wrote that man has an intrinsic "propensity to truck, barter, and exchange one thing for another." But how did trade evolve to the point where we don't think twice about biting into an apple from the other side of the world? In this sweeping narrative history of world trade, William J. Bernstein tells the extraordinary story of global commerce from its prehistoric origins to the myriad controversies surrounding it today. He transports readers from ancient sailing ships that brought the silk trade from China to Rome in the second century to the rise and fall of the Portuguese monopoly in spices in the sixteenth; from the American trade battles of the early twentieth century to the modern era of televisions from Taiwan, lettuce from Mexico, and T-shirts from China. Lively, authoritative, and astonishing in scope, A Splendid Exchange is a riveting narrative that views trade and globalization not in political terms, but rather as an evolutionary process as old as war and religion--a historical constant--that will continue to foster the growth of intellectual capital, shrink the world, and propel the trajectory of the human species.
Condition: Used book in Very Good condition.
---