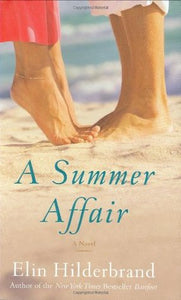 A Summer Affair (Used Book) - Elin Hilderbrand
Claire Danner Crispin, mother of four young children and nationally renowned glassblower, bites off more than she can chew when she agrees to co-chair a huge benefit concert on Nantucket. Claire is asked to chair the Nantucket Children Summer Gala, at least in part, because she is the former high school sweetheart of world famous rock star, Max West. Max agrees to play the benefit and it looks like smooth sailing for Claire—until she agrees to create a "museum-quality" piece of glass for the auction, pre-emptorily offers her best friend the catering job, goes nose-to-nose with her Manhattan socialite co-chair, and begins a "good-hearted" affair with the charity's Executive Director, Lockhart Dixon.

Hearts break and emotions stretch to the point of snapping in this in-depth look at one woman's attempt to deal with loves past and present, raise a family, run a business, and pull of a charity event unlike any the island of Nantucket has ever seen. Claire discovers that doing good and being bad are not mutually exclusive—and that nothing is ever as simple as it seems. 
Paperback
---