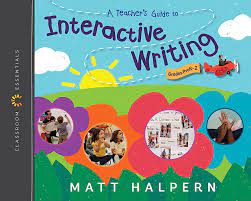 A Teacher's Guide to Interactive Writing: The Classroom Essentials Series (Used Paperback) - Matt Halpern
Welcome to interactive writing, a foundational classroom practice that helps our youngest students discover the joy of writing as a community of learners. Letters, sounds, spelling patterns, and concepts of print come to life when teachers share the pen with children, collaborating to create text.

A Teacher's Guide to Interactive Writing shares the principles, routines, and strategies of interactive writing in the PreK-2 classroom. You'll watch how the magic happens, across the day and across subject areas, in 23 classroom videos with teacher Matt Halpern. Abundant teaching tips help you seamlessly weave interactive writing into your daily practice-no matter your curriculum or instructional approach.

Give your students the confidence to become "writers" even from the very beginning, with interactive writing.
0701NVB
---