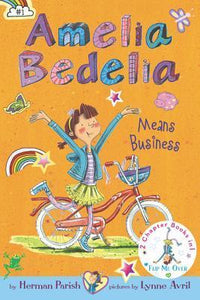 Amelia Bedelia Means Business / Amelia Bedelia Unleashed (Used Hardcover) - Herman Parish
Get two books in one with the flip-book edition of books one and two in the New York Times–bestselling chapter book series about the childhood of America's favorite housekeeper. Read book #1, Amelia Bedelia Means Business, then flip the book over to read book #2, Amelia Bedelia Unleashed! The Amelia Bedelia books have sold more than 35 million copies.

In Amelia Bedelia Means Business, young Amelia Bedelia will do almost anything for a shiny new bicycle. Her parents say they'll split the cost with her, and that means Amelia Bedelia needs to put the pedal to the metal and earn some dough!

In Amelia Bedelia Unleashed, young Amelia Bedelia goes to the dogs and discovers why they are man's (and girl's) best friends.

With Amelia Bedelia, anything can happen—and it usually does. Short, fast-paced chapters, tons of friends and funny situations, a guide to idioms used in the book, and black-and-white illustrations by Lynne Avril on every page make the Amelia Bedelia chapter books an ideal choice for readers of the Ivy + Bean, Magic Tree House, and Judy Moody books.
Cover image is Book 1.
0615DS
---