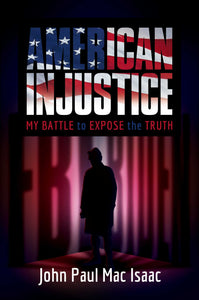 American Injustice: My Battle to Expose the Truth (Used Book) - John Paul Mac Isaac
This is the story of how I tried to get the Hunter Biden laptop evidence to the authorities.

My life changed forever on April 12, 2019, when Hunter Biden stumbled into my shop requesting data recovery from one of his liquid-damaged laptops. After his father announced his candidacy for president of the United States, and Hunter failed to pay for and collect his computer, fear for my safety grew. There was paperwork in Hunter's possession giving me permission to examine and copy his data—someone was going to come looking for the laptop, and come looking for me. Concerned that I was sitting on evidence in a criminal investigation, I set out to hand everything over to the FBI. But, feeling betrayed by the FBI's inaction in providing the laptop as evidence during the impeachment trial, I then turned to Congress, and ultimately, to a lawyer for the president, Rudy Giuliani. When the story broke, Big Tech and social and mainstream media blocked the reporting. I was instantly labeled as a hacker and a criminal. My actions were labeled Russian disinformation, and it didn't take long before people started attacking my business and my character, forcing me to close my shop and flee the state.
Hardcover
0124ML
---