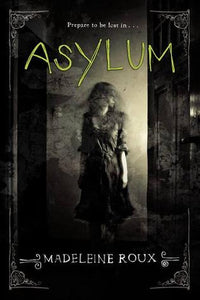 Asylum (Used Paperback) - Madeleine Roux
Madeleine Roux's New York Times bestselling Asylum is a thrilling and creepy photo-illustrated novel that Publishers Weekly called "a strong YA debut that reveals the enduring impact of buried trauma on a place." Featuring found photographs from real asylums and filled with chilling mystery and page-turning suspense, Asylum is a horror story that treads the line between genius and insanity, perfect for fans of Miss Peregrine's Home for Peculiar Children.

For sixteen-year-old Dan Crawford, the New Hampshire College Prep program is the chance of a lifetime. Except that when Dan arrives, he finds that the usual summer housing has been closed, forcing students to stay in the crumbling Brookline Dorm—formerly a psychiatric hospital. As Dan and his new friends Abby and Jordan start exploring Brookline's twisty halls and hidden basement, they uncover disturbing secrets about what really went on here . . . secrets that link Dan and his friends to the asylum's dark past. Because Brookline was no ordinary mental hospital, and there are some secrets that refuse to stay buried.
0816LO
---