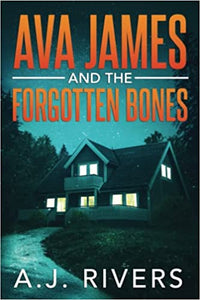 Ava James and the Forgotten Bones (Used Book) - A.J. Rivers
Under the darkness of the winter night sky, in the small town of Hidden Cove.
A disturbing plan was hatched. What happened afterwards may never be understood.
Now at 509 Pleasant Hill Drive, the lives of the Johnsons will never be the same.

Agent Ava James has settled in the town of Harlan just outside of Washington, D.C. in her new field office. Amid this big change, her mother goes missing somewhere in South Africa, leaving her and her father distraught.
Ava is immediately taken out of the field and placed on the Cold Case Initiative and is forbidden to look for her mother.
To keep herself from doing something brash, Ava buries herself in her work.

While looking through cold cases Ava is drawn to the case of Hidden Cove.
A cold case involving a young married couple.
The husband was found murdered in his living room and the wife disappeared without a trace.
Recently, another young couple with a three-year-old daughter had moved into that same house.
They were both found murdered, leaving their baby orphaned.

Was there a murderer loose in the community?
Were the two cases linked?
When Ava is sent to the small town in Kentucky, she finds that the only thing colder than the mid-December weather in Kentucky is her reception.
The locals are leery of her because she's an outsider.
The cold case heaves up one dead-end after another.
Leading Ava to be blindsided by what happens next.

In the small-town of Hidden Cove, some cases are best left forgotten...
Paperback
0509SR
---