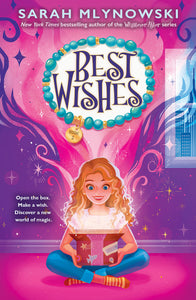 Best Wishes #1 (Used Paperback) - Sarah Mlynowski
Because you're blue
This bracelet is now for you.
Speak one wish to make it true. . .

So begins this new adventure from Sarah Mlynowski. When different girls around the country receive a wish-granting bracelet in the mail, magical mayhem ensues!

Becca Singer is having the Worst Day Ever. Her best friend, Harper, dumped her, and Becca is totally friendless and alone.

Then the box arrives in the mail.

Inside the box? One bracelet, plus a mysterious note telling Becca to make a wish. So Becca puts on the bracelet--why not, right?--and wishes to have friends. Lots of friends. So many friends.

And just like that, the magic works. Suddenly, EVERYONE wants to be Becca's BFF, from all the kids at school to the teachers (!) to her own mom (!!). As things spin out of control, Becca starts to wonder: Is this wish a curse?

And stay tuned for Book Two, co-written by Sarah Mlynowski and Debbie Rigaud, when a girl in Ohio gets the bracelet in the mail and makes a new wish!
0712CM
---