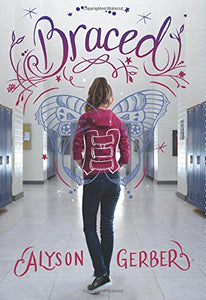 Braced (Used Book) - Alyson Gerber
Rachel Brooks is excited for the new school year. She's finally earned a place as a forward on her soccer team. Her best friends make everything fun. And she really likes Tate, and she's pretty sure he likes her back. After one last appointment with her scoliosis doctor, this will be her best year yet.

Then the doctor delivers some terrible news: The sideways curve in Rachel's spine has gotten worse, and she needs to wear a back brace twenty-three hours a day. The brace wraps her in hard plastic from shoulder blades to hips. It changes how her clothes fit, how she kicks a ball, and how everyone sees her -- even her friends and Tate. But as Rachel confronts all the challenges the brace presents, the biggest change of all may lie in how she sees herself.
Paperback
1018CR
---