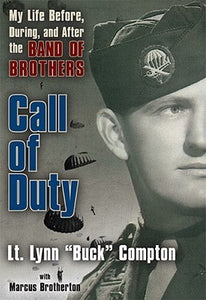 Call of Duty: My Life Before, During, and After the Band of Brothers (Used Book) - Lynn Compton
The true story of an American hero—in his own words.

As part of the elite 101st Airborne paratroopers, Lt. Lynn "Buck" Compton fought in critical battles of World War II as a member of Easy Company, immortalized as the Band of Brothers.

Here, Buck Compton tells his own story for the first time. From his years as a two-sport UCLA star who played baseball with Jackie Robinson and football in the 1943 Rose Bowl, through his legendary post- World War II legal career as a prosecutor, in which he helped convict Sirhan Sirhan for the murder of Robert F. Kennedy, Buck Compton truly embodies the American Dream: college sports star, esteemed combat veteran, detective, attorney, judge.

This is the true story of a real-life hero who traveled to a faraway place and put his life on the line for the cause of freedom—and an insightful memoir about courage, leadership, camaraderie, compassion, and the opportunities for success that can only happen in America.
Hardcover
---