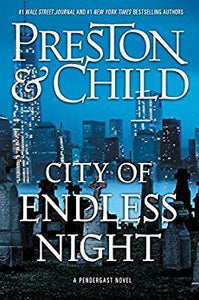 City of Endless Night (Used Book) - Preston & Child
What begins as a manhunt for the missing daughter of a wealthy tech billionaire becomes something altogether different when the young woman's body is discovered in an abandoned warehouse in Kew Gardens, Queens, the head nowhere to be found. It appears there may be two killers on the loose--one responsible for the young woman's death, another responsible for the mutilation. A pair of such dastardly killers requires a team of equally talented investigators. Luckily, both Vincent D'Agosta and Special Agent Pendergast are back in town.

D'Agosta hopes that working a case back on his home turf for the first time in years will reinvigorate the FBI Special Agent and give him an opportunity to flex his investigative might. But neither is prepared to face a killer--or killers--as diabolical as this. It will take all of Pendergast and D'Agosta's intelligence and strength simply to match wits--let alone stay alive.

Hardcover

0412SR
---