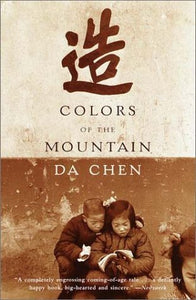 Colors of the Mountain (Used Paperback) - Da Chen
Colors of the Mountain is a classic story of triumph over adversity, a memoir of a boyhood full of spunk, mischief, and love, and a welcome introduction to an amazing young writer.
Da Chen was born in 1962, in the Year of Great Starvation. Mao Zedong's Cultural Revolution engulfed millions of Chinese citizens, and the Red Guard enforced Mao's brutal communist regime. Chen's family belonged to the despised landlord class, and his father and grandfather were routinely beaten and sent to labor camps, the family of eight left without a breadwinner. Despite this background of poverty and danger, and Da Chen grows up to be resilient, tough, and funny, learning how to defend himself and how to work toward his future. By the final pages, when his says his last goodbyes to his father and boards the bus to Beijing to attend college, Da Chen has become a hopeful man astonishing in his resilience and cheerful strength.
---