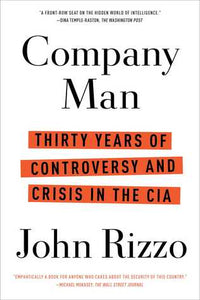 Company Man: Thirty Years of Controversy and Crisis in the CIA - John Rizzo
Over the course of a thirty-four-year (1976-2009) career, John Rizzo served under eleven CIA directors and seven presidents, ultimately becoming a controversial public figure and a symbol and victim of the toxic winds swirling in post-9/11 Washington. In Company Man, Rizzo charts the CIA's evolution from shadowy entity to an organization exposed to new laws, rules, and a seemingly never-ending string of public controversies. As the agency's top lawyer in the years after the 9/11 attacks, Rizzo oversaw actions that remain the subject of intense debate, including the rules governing waterboarding and other "enhanced interrogation techniques."

Rizzo writes about virtually every significant CIA activity and controversy over a tumultuous, thirty-year period. His experiences illuminate our nation's spy bureaucracy, offering a unique primer on how to survive, and flourish, in a high-powered job amid decades of shifting political winds. He also provides the most comprehensive account of critical events, like the "torture tape" fiasco surrounding the interrogation of Al Qaeda suspect Abu Zubayadah, and the birth, growth, and death of the enhanced interrogation program. Company Man is the most authoritative insider account of the CIA ever written—a groundbreaking, timely, and remarkably candid history of American intelligence. 
Paperback
0826LH
---