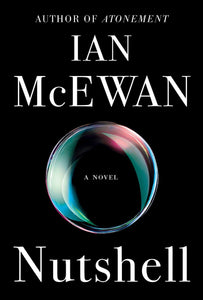 Nutshell (Used Hardcover) - Ian McEwan
Trudy has been unfaithful to her husband, John. What's more, she has kicked him out of their marital home, a valuable old London town house, and in his place is his own brother, the profoundly banal Claude. The illicit couple have hatched a scheme to rid themselves of her inconvenient husband forever. But there is a witness to their plot: the inquisitive, nine-month-old resident of Trudy's womb.

As Trudy's unborn son listens, bound within her body, to his mother and his uncle's murderous plans, he gives us a truly new perspective on our world, seen from the confines of his. McEwan's brilliant recasting of Shakespeare lends new weight to the age-old question of Hamlet's hesitation, and is a tour de force of storytelling.
0807RT
---