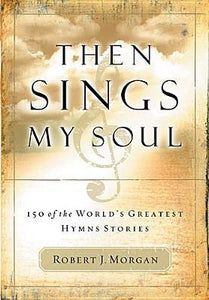 Then Sings My Soul (Used Book) - Robert J. Morgan
Rob Morgan's inimitable style will help people reacquaint themselves with the hymns of the faithful. His goal is to keep these traditional hymns vital and meaningful to all generations.
Don't look for a dry recounting of boring stories. These devotional-style stories show the emotion and drama behind the hymns of faith that have changed many lives throughout history -- the people whose faith led them to write these wonderful hymns and the people whose faith was affected by reading, hearing, and singing the songs. Designed to be personally reflective, these stories speak to your soul and add depth and meaning as you worship God through song.
FEATURES:
Includes words and music to each hymn
Special softcover, french flap cover design
Ivory paper with brown ink
Jagged-edge paper, giving it a classic feel
Complete with hymn index
Use for devotionals, teaching illustrations, introductory remarks for song leaders and music ministers
---