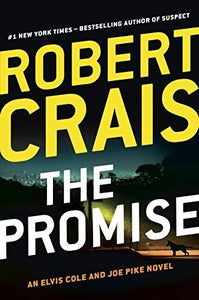 The Promise (Used Book) - Robert Crais
 Loyalty, commitment, and the fight for justice have always driven Elvis Cole and Joe Pike. If they make a promise, they keep it. Even if it could get them killed.
            When Elvis Cole is secretly hired to find a grief-stricken mother, he's led to an ordinary house on a rainy night in Echo Park.  Only the house isn't ordinary, and the people hiding inside are a desperate fugitive and a murderous criminal with his own dangerous secrets.
            As helicopters swirl overhead, Scott and Maggie track the fugitive to this same house, coming face-to-face with Mr. Rollins, a killer who leaves behind a brutally murdered body and enough explosives to destroy the neighborhood.  Scott is now the only person who can identify him, but Mr. Rollins has a rule:  Never leave a witness alive.
     For all of them, the night is only beginning.
     Sworn to secrecy by his client, Elvis finds himself targeted by the police even as Mr. Rollins targets Maggie and Scott.  As Mr. Rollins closes in for the kill, Elvis and Joe join forces with Scott and Maggie to follow a trail of lies where no one is who they claim -- and the very woman they promised to save might get them all killed. 
Hardcover
0207SR

---