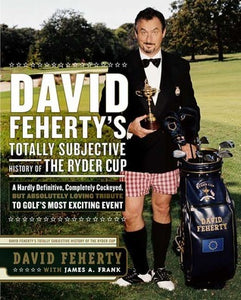 David Feherty's Totally Subjective History of the Ryder Cup (Used Book) - David Feherty , James A. Frank
"As hard-bitten as we all get, the Ryder Cup is still the measure of intestinal fortitude." -- David Feherty, 1991
What began in 1927 as a friendly competition between best golfers from the United States and Great Britain has evolved into the most action- packed, gut-wrenching, and nail-biting event in the game-- and possibly in all of sports. For three days every two years, twenty-four of the world's best battle both as partners and as individuals, vying not for prize money but for national pride. It is an experience that makes them weak in the knees, and more than one grizzled veteran has admitted to spending the moments before teeing off exorcising his demons into the toilet.
This "history" of the game's most exciting tournament looks beyond the team lineups and final scores to uncover the personalities and stories that made every playing of the biennial matches a war of wits. From the practical jokes in the locker rooms to the strategic decisions that won (and lost) crucial matches, Feherty-- who played on the 1991 Ryder Cup team for Europe-- provides an insight and an outlook that no one else can match. Or would dare try.
Hardcover
---