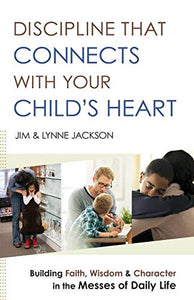 Discipline that Connects with Your Child's Heart (Used Paperback) - Jim Jackson, Lynne Jackson
Ever feel stuck in a discipline rut? This book will help you develop a new "lens" for effective, caring discipline with your child. "Discipline that Connects" is a profound and deeply Biblical way of thinking about corrective discipline. In these pages you'll grow in insight about yourself and your child. You'll learn to: Prepare your heart and stay calm when your kids are not.Think on your feet and respond with confidence and wisdom.Turn behavior problems into opportunities.Help children learn to be responsible for their own actions and truly reconcile with others.Use creative consequences that build skills, values, and faith in your children.Get out of the discipline rut and into your children's hearts!
Condition: Used book in Very Good condition.

---