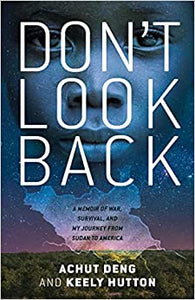 Don't Look Back (Used Hardcover) - Achut Deng
In this propulsive memoir from Achut Deng and Keely Hutton, inspired by a harrowing New York Times article, Don't Look Back tells a powerful story showing both the ugliness and the beauty of humanity, and the power of not giving up.

I want life.

After a deadly attack in South Sudan left six-year-old Achut Deng without a family, she lived in refugee camps for ten years, until a refugee relocation program gave her the opportunity to move to the United States. When asked why she should be given a chance to leave the camp, Achut simply told the interviewer: I want life.

But the chance at starting a new life in a new country came with a different set of challenges. Some of them equally deadly. Taught by the strong women in her life not to look back, Achut kept moving forward, overcoming one obstacle after another, facing each day with hope and faith in her future. Yet, just as Achut began to think of the US as her home, a tie to her old life resurfaced, and for the first time, she had no choice but to remember her past.
0906WS
---