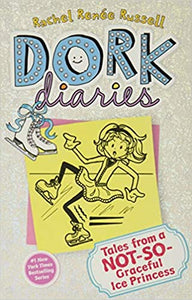 Dork Diaries Tales from a Not-So-Graceful Ice Princess (Used Hardcover) - Rachel Renee Russell
Nikki Maxwell raises money for a local animal shelter in this fourth installment of the #1 New York Times bestselling Dork Diaries series!

Nikki Maxwell isn't at all surprised to find out that her crush Brandon volunteers at a local animal shelter—of course he wants to help those adorable puppies! And she'll do whatever it takes to keep the shelter from closing. Nikki, Chloe, and Zoey enter an ice-skating competition to help raise money, but (big surprise) MacKenzie has to stick her nose in. Can Nikki and her BFFs still carry out their plan?
Dork Diary # 4
0711JA
---