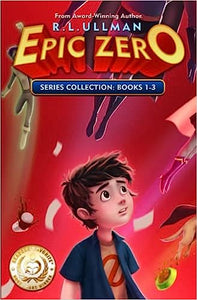 Epic Zero: Books 1-3 (Used Paperback) - R.L. Ullman
All Elliott Harkness wants is to be a superhero. His parents are superheroes. His older sister is a superhero. Heck, even his dog is a superhero. But Elliott has a problem—he's a "Zero"—which is super-speak for powerless! So, while his family is off fighting crime, Elliott is stuck muddling through middle school.

Elliott feels ever-so-ordinary, until a mysterious girl changes everything. For some reason, she believes Elliott is the only one who can capture a mega-powerful, extraterrestrial orb before it falls into the wrong hands. But with menacing supervillains and globe-conquering aliens closing in fast, will Elliott find the power to be the epic hero he's always wanted to be—or will he always be just an Epic Zero?
0818DO
---