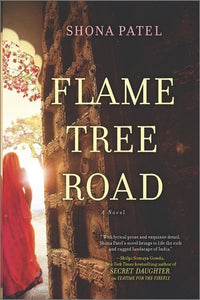 Flame Tree Road (Used Paperback) - Shona Patel
From the acclaimed author of Teatime for the Firefly comes the story of a man with dreams of changing the world, who finds himself changed by love

1870s India. In a tiny village where society is ruled by a caste system and women are defined solely by marriage, young Biren Roy dreams of forging a new destiny. When his mother suffers the fate of widowhood—shunned by her loved ones and forced to live in solitary penance—Biren devotes his life to effecting change.

Biren's passionate spirit blossoms as wildly as the blazing flame trees of his homeland. With a law degree, he goes to work for the government to pioneer academic equality for girls. But in a place governed by age-old conventions, progress comes at a price, and soon Biren becomes a stranger among his own countrymen.

Just when his vision for the future begins to look hopeless, he meets Maya, the independent-minded daughter of a local educator, and his soul is reignited. It is in her love that Biren finally finds his home, and in her heart that he finds the hope for a new world.
0620ML
---