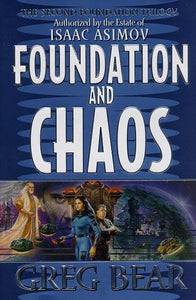 Foundation and Chaos - Greg Bear (Signed, 1st Ed/1st Printing)
1st Edition, 1st Printing. Signed by author and authenticated. Published in 1998. 
Isaac Asimov's Foundation Trilogy is one of the high-water marks of science fiction. It pioneered many of the familiar themes of modern SF, and the sheer sweep of his "future history" shaped many if not most of the writers who followed him. With the permission -- and blessing -- of the Asimov estate, three of today's bestselling SF writers, Gregory Benford, Greg Bear and David Brin, have conspired (like the original Foundation!) to complete the epic saga the beloved Grand Master left unfinished.

The acclaimed Second Foundation Trilogy continues with Greg Bear's Foundation and Chaos, the gripping new novel about a galaxy-wide power struggle within the ranks of the robots that have served and protected humankind for 20 centuries.

Second Foundation Trilogy, #2
Condition: Used book in Very Good condition. Some light scuffing on plastic covering the dust jacket. 
Hardcover
0914DRH
---