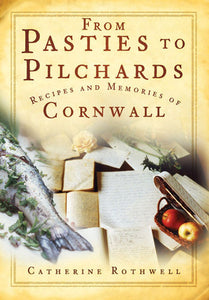 From Pasties to Pilchards (Used Paperback) - Catherine Rothwell
Catherine Rothwell has gathered together more than 130 traditional Cornish recipes in her latest book. Cornwall has always had a strong culinary tradition, with many dishes having their origins in the county. Some of those featured have wonderful names such as Star-Gazey Pie and Bill's Treacle Dunkers to name but two. Of course there are the more recognizable treats, too, like Cornish Pasties and regional variations of jam, bread, and wine recipes. As one would expect, she has featured lots of fish dishes—the coastal towns and villages relied heavily on the sea for sustenance in days gone by—and celebrity chef Rick Stein has even contributed one of his own famous recipes for Monkfish with Garlic and Fennel. Interwoven with Catherine's recipes are stories and anecdotes from her contributors, as well as historical tales of the places featured. The whole of the county from Anthony to Zennor is covered, and is a fascinating read not only for those interested in regional cookery, but also in local history, customs, and traditions.
Condition: Used book in Very Good condition.
---