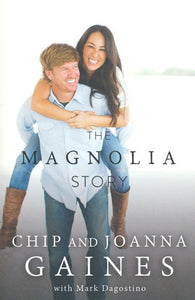 The Magnolia Story (Used Book) - Chip & Joanna Gaines
Are you ready to see your fixer upper?

These famous words are now synonymous with the dynamic husband-and-wife team Chip and Joanna Gaines, stars of HGTV s Fixer Upper. As this question fills the airwaves with anticipation, their legions of fans continue to multiply and ask a different series of questions, like Who are these people? Whats the secret to their success? And is Chip actually that funny in real life? By renovating homes in Waco, Texas, and changing lives in such a winsome and engaging way, Chip and Joanna have become more than just the stars of Fixer Upper, they have become America s new best friends.

The Magnolia Story is the first book from Chip and Joanna, offering their fans a detailed look at their life together. From the very first renovation project they ever tackled together, to the project that nearly cost them everything; from the childhood memories that shaped them, to the twists and turns that led them to the life they share on the farm today.
Hardcover
---