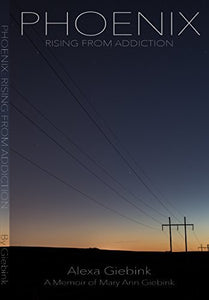 Phoenix: Rising From Addiction (Used Book) - Alexa Giebink
The phoenix is a bird from classical mythology that dies in a show of flames and is then reborn from out of the ashes. The memoir Phoenix: Rising From Addiction tells how one family fought their way out of the fires of addiction and tragedy and rose together, stronger from the ashes.

Mary Ann Giebink was a successful lawyer who lost her law firm and her reputation when she succumbed to alcoholism and depression, ultimately landing her in prison. The causes were numerous, ranging from the suicide of her brother to her stressful career. The question is not why she drank but how she put down the bottle and how her family helped her.

Phoenix is an unconventional addiction memoir written by Alexa, the daughter of an addict. It is a story of courage and strength, love and forgiveness. 
Paperback
021WS
---