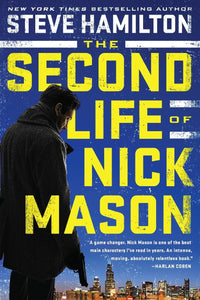 The Second Life of Nick Mason (Used Hardcover) - Steve Hamilton
Nick Mason has already spent five years inside a maximum security prison when an offer comes that will grant his release twenty years early.  He accepts -- but the deal comes with a terrible price.

Now, back on the streets, Nick Mason has a new house, a new car, money to burn, and a beautiful roommate.  He's returned to society, but he's still a prisoner.  Whenever his cell phone rings, day or night, Nick must answer it and follow whatever order he is given.  It's the deal he made with Darius Cole, a criminal mastermind serving a double-life term who runs an empire from his prison cell.

Forced to commit increasingly more dangerous crimes, hunted by the relentless detective who put him behind bars, and desperate to go straight and rebuild his life with his daughter and ex-wife, Nick will ultimately have to risk everything—his family, his sanity, and even his life—to finally break free.
1010SR
---