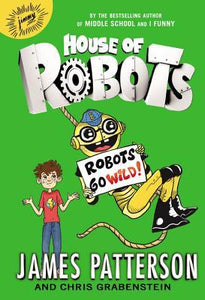 House of Robots Robots Go Wild! (Used Hardcover) - James Patterson, Chris Grabenstein
In book two of the House of Robots series, it's 'bot brains versus 'bot brawn in an all-out war!
Sammy Hayes-Rodriguez and his "bro-bot" E are making new friends every day as E works as his bedridden sister Maddie's school proxy. But disaster strikes when E malfunctions just in time to be upstaged by the super-cool new robot on the block--and loses his ability to help. Now it's up to Sammy to figure out what's wrong with E and save his family!
House of Robots #2
0730JA
---