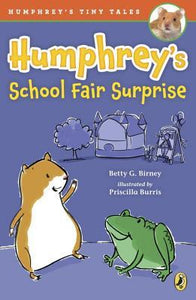 Humphrey's School Fair Surprise (Used Paperback) -Betty G. Birney
Everyone's favorite classroom pet is now starring in chapter books!

Longfellow School is having a school fair! They will have bouncy castles, bean bag games, painted faces, and delicious treats. And there's also a contest for best class spirit. Of course Mrs. Brisbane's class decides Humphrey and Og are the biggest reasons their class is so special and they make costumes and signs to show everyone why. At first it seems as though Humphrey and Og won't get to go to the fair, but luckily Aldo figures out a way to get them there safely. The fair is as wonderful as Humphrey imagined and he even ends up being the surprise star of the day.

Just-right for readers transitioning from easy-to-reads to chapter books, Humphrey's Tiny Tales simply make kids HAPPY-HAPPY-HAPPY.
0616CM
---