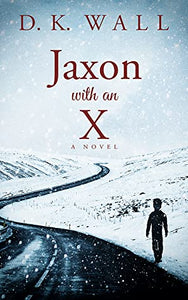 Jaxon With An X (Used Book) - D.K. Wall
A lone teenager. A shocking secret.

During a raging snowstorm, a deputy rescues a teenager stumbling along the side of a highway. Battered and starving, the boy reveals only his name-Jaxon with an X.

Ten years earlier, six-year-old Jaxon Lathan disappeared from a small North Carolina mountain town. The sheriff thought he had solved the crime, but the boy's return leads to a house of secrets, a mass grave, and the horror of missed opportunities. As the victims are identified one-by-one, the story of what really happened comes to light.

While the police piece together the crimes, Jaxon's family struggles to rebuild their relationship with their long-lost son, now a barely recognizable shadow recovering in a hospital bed. His return rekindles the guilt each of them carries about the day he disappeared.

Jaxon craves the warmth and love of the family he barely remembers. But why does he deserve to be happy when his best friend from those dark years will never return?

Jaxon with an X is an emotionally charged standalone literary fiction novel. If you like rural settings, broken families learning to heal, and stories of personal endurance, you'll love D.K. Wall's absorbing tale.

Can Jaxon with an X find his way out of the cold? 
Paperback
1129ML

---