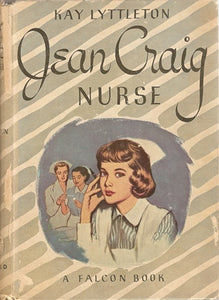 Jean Craig, Nurse (Used Hardcover) - Kay Lyttleton (1949)
Published in 1949.
When Jean Craig learned that Elmhurst was planning a hospital, she sponsored a fund-raising barn dance. It proved to be a turning point in her life, for here she met Ted Loring and decided to study nurshing. And it was in this profession that she found herself solving problems and even sponsoring a romance in truly exciting fashion. Jean made others happy and found happiness herself in this vivid and absorbing story of hospital life behind the scenes.
Condition: Used book in Acceptable condition, some wear on spine, sticker on front cover, some staining.
---