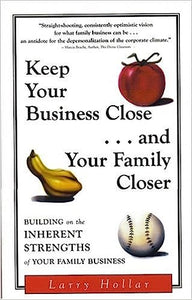 Keep your Business Close... and Your Family Closer (Used Paperback) - Larry Hollar
Business school teaches you business theories. Your mother lends you family advice. But, who can give you the real scoop on mixing business and family? A family-business veteran, of course, who has lived through the agony of firing a loved one, the misgivings of family-business succession, the uncertainty of hiring a son-in-law . . . and still believes in family business.
Author Larry Hollar has worked in his family's business since the age of five, from taking out the trash to international sales at the decades-old seed company. Since taking over the reins at his family business, Hollar has simultaneously studied the science of family business management. In Keep Your Business Close and Your Family Closer, Hollar weaves stories of international business success with hard-earned advice. From grandpa's tried-and-true truisms to academic theories, this book offers something for everyone in the business -- from mail room to board room.
While examining the plus-sides of doing business with your family, this down-to-earth book is also a personal tale of growing up in rural America, traveling the world and succeeding at growth.
---