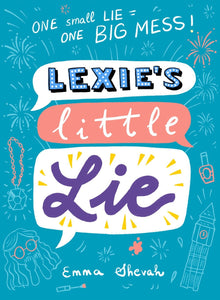 Lexie and the Lie (Used Book) - Emma Shevah
Lexie and her cousin Eleni are super-crazy-mega-extra-seriously close. They're like twins who aren't actually twins, if that's possible. But when Lexie tells a terrible, jealous lie, her whole family is split apart.

It's up to Lexie to bring them all back together and fix her relationship with Eleni. After a few calamitous escapades, Lexie has discovered that there are all sorts of truths and all sorts of lies too...But when is the truth more hurtful than a lie?
Hardcover
0124CR
---