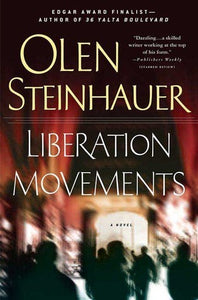 Liberation Movements (Used Paperback) - Olen Steinhauer
Olen Steinhauer's acclaimed crime series set in Eastern Europe has taken readers from the first shots of the revolution and through the chaos of the 1960s. Now, it is 1975, and one of the People's Militia investigators is bound for Istanbul when his plane is hijacked by Armenian terrorists and explodes in midair.
Gavra Noukas, a secret policeman, and Katja Drdova, a homicide detective, are assigned to the case. Both believe that Brano Sev, their enigmatic superior and career secret policeman, is hiding the true motives of their investigation, but they can't figure out why until they learn that everything is connected to a seven-year-old murder with far-reaching consequences.
The compelling politics and history for which Olen Steinhauer's novels have been praised turn intimate in this ambitious novel.
---