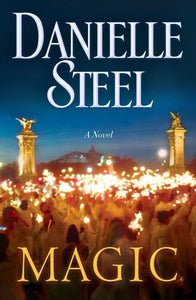 Magic (Used Book) - Danielle Steel
A dazzling contemporary novel that vividly portrays the glamorous White Dinners that occur annually in Paris, and the ups and downs of three interconnected couples for whom the dinners have become a tradition, from #1 New York Times bestselling author Danielle Steel.

The White Dinner is a love poem to friendship, joy, elegance, and the monuments of Paris. And each year it is an unforgettable summer night, especially for Jean-Philippe Dumas, a longtime participant, and the three couples he's carefully selected to attend this exclusive and cherished event. Interweaving the stories of seven individuals, lives will be forever changed on the eve of one such White Dinner; a night that will lead to new friendships, new love, and of course, magical possibilities.
Hardcover
0816ML

---