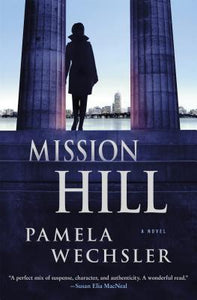 Mission Hill (Used Hardcover) - Pamela Wechsler
Abby Endicott is chief of the District Attorney's homicide unit in Boston, where she investigates and prosecutes the city's most dangerous killers. A member of Beacon Hill's elite, and a graduate of the Winsor school and then Harvard Law, the prosecutor's office is not the prestigious job that would have been expected of her. She has been known to change into an evening gown amidst bodies in the morgue. She loves her job, and is committed to it, refusing all pressure to quit from her upper-crust parents or threats from the city's most ruthless killers. But among Abby's many secrets is her longtime affair with fellow prosecutor Tim Mooney, a married father of one.

One night, Abby is awakened very late by a phone call from her favorite detective, who reports that there has been a horrific murder but is vague about the specifics. When she arrives at the crime scene and discovers the identity of the victim, Abby knows the terror and tragedy are only beginning.

In Mission Hill, debut novelist Pamela Wechsler delivers a gripping and very human portrayal of a woman who will stop at nothing to find the truth, even if it challenges everything she believes about justice.
0912ML
---