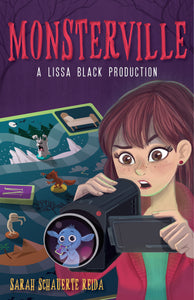 Monsterville: A Lissa Black Production (Used Hardcover) - Sarah S. Reida
Thirteen-year-old aspiring screenwriter/director Lissa Black isn't thrilled when her parents move the family from NYC to the sticks of Freeburg, PA. At first, it seems like her only entertainment will be playing the twisted version of Candyland called Monsterville found in her basement, and learning Boy Scout knots from her new neighbor Adam. But when a walk in the woods lands Lissa face-to-face with a swamp monster, and then a Sasquatch, she realizes that maybe Freeburg isn't totally boring.

With Adam's help, Lissa catches the culprit behind the drama: a shape-shifting goblin who's escaped from the monster world of Down Below. At first, Lissa has big plans to use Blue as the star in her first real movie, but then monsters snatch her little sister on Halloween. Now Lissa and her new friends must venture Down Below to stage a rescue - and face the real Monsterville, which is anything but a game.
0615DS
---