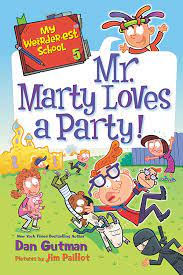 My Weirder-est School #5: Mr. Marty Loves a Party! (Used Paperback) -Dan Gutman
With more than 23 million books sold, the My Weird School series really gets kids reading!
Put on your party hats! It's time for a birthday celebration you'll never forget in this fifth book in the My Weirder-est School series.
A.J. is turning nine! So he's inviting all his family, friends, and favorite teachers over for a backyard birthday bash. His parents even hire a popular party planner, Mr. Marty.
But what happens when Mr. Marty accidentally orders rival clowns, a bubble blower, and even a singing cowboy to entertain guests? This will be one weird party!
Perfect for reluctant readers and all kids hungry for funny school stories, Dan Gutman's hugely popular My Weird School chapter book series has something for everyone. Don't miss the hilarious adventures of A.J. and the gang!
0812CM
---